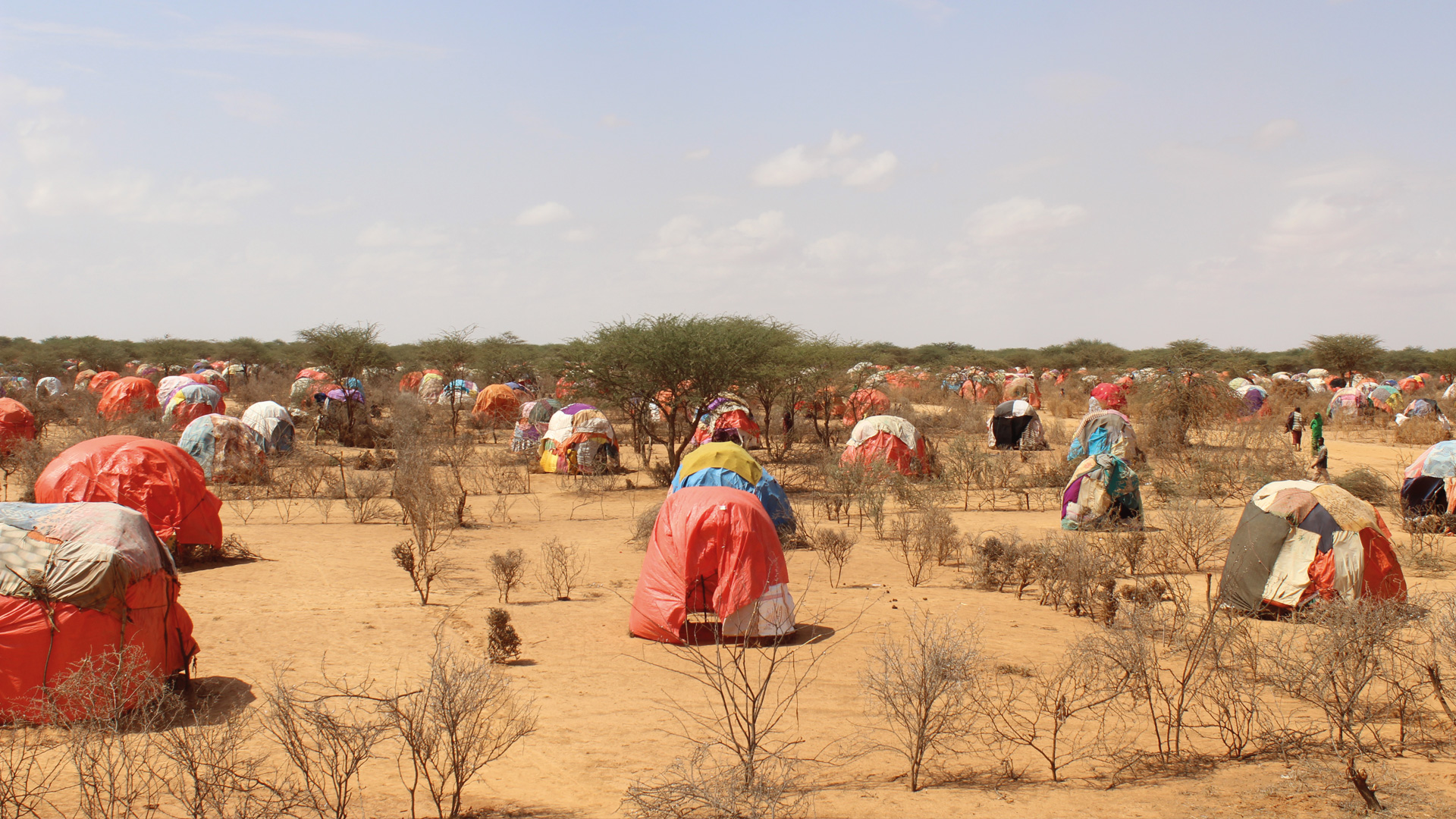 Drought in East Africa – Focus on Somaliland
Drought in East Africa – Focus on Somaliland
Tearfund Germany's work in Somaliland is centered primarily on the areas of development and development-oriented relief. Tearfund Germany's strategy focuses on long-term, relational partnerships with local communities, flowing out of our vision and mission to engage the community to holistically serve the vulnerable among them. Tearfund Germany's thematic focus areas include grassroots development, community mobilization, access to clean water and livelihoods support. One of Tearfund goals in any project is to work with communities in partnership, helping them grow in their power to make changes in their own well-being, and, at project-end, leaving them with the ability to secure a better future for themselves without the need of our continued assistance.
CONTEXT / BACKGROUND ANALYSIS
Tearfund Germany works in rural Maroodi Jeeh region, the project area has experienced failure of rain in the past four consecutive rainy seasons and has being hit hard as part of the wider Horn of Africa region currently experiencing severe drought. The area is historically prone to recurring drought but the length and intensity of recent droughts has been unusually severe and may indicate longer term climate change. The residents are pastoralists whose livelihood is primarily herding of sheep, goats and camels. Tearfund Germany is on the ground responding to these crises but also, in the face of frequent and severe droughts, we are working with communities to carry out longer-term development work that focuses on building resilience at community and household levels by improving livelihoods opportunities/sources, water facilities and food security, and by mobilizing women and other key community members.
Resilience Building Project:
As highlighted above, Tearfund Germany has a significant experience in the mobilization of participatory community development that emphasizes local ownership of projects and their sustainability. The training, formation, empowering, and partnering of and with CBOs (Community based organizations) in the villages where the program will operate is central to our activities. The goal of our programs is to increase the resilience of households and communities across Salahley and Sabawanaag Districts to withstand shocks, stresses and uncertainty caused by drought, climate change and other social and economic challenges. This is being achieved through building the capacity of the community, especially women, to improve their productivity, diversify their livelihood options and work effectively with government structures to mitigate the impact of future shocks on the community.
The current program supports our long-term objective through a variety of initiatives:
Development and strengthening of Community Risk Management Plans which community members develop together and use to plan future interventions and programming. This participatory approach encourages community ownership because they are leading the development and their plans for the future.
Watershed management to slow water runoff and increase pasture growth.
Rangeland management to promote conservation and community reserves which strengthens livelihoods through rangeland restoration and encourages a decrease in heard sizes through the successful sale of healthy livestock.
Promotion and training of growing and storing fodder reserves for the dry season to supplement limited pasture and sustain herds until the next rains.
Project Beneficiaries
Tearfund Germany's programs has benefited more than 8500 Households.
Emergency Response:
The project area has experienced failure of rain in the past four consecutive rainy seasons and is part of the wider Horn of Africa region currently experiencing severe drought. In such scenarios Tearfund Germany prioritizes life saving interventions and the provision of basic services and livelihood opportunities to vulnerable persons. Thus interventions such as emergency water trucking, construction and rehabilitation of strategic water points and livelihood supports techniques through cash transfers are employed.
Addressing Root Causes
Poverty and unemployment however are widespread in Somaliland, and climate change has increased the recurrence and severity of droughts in recent years. The vast majority of the population is food insecure, and many are forced to leave their homes when conditions are especially devastating. The commercial production of charcoal fosters deforestation, thus increasing the disastrous effects of drought, and the widespread habit of "qat" chewing (a plant chewed for its stimulating effect) has debilitating effects on health, the ability to work, and household finances. Weak community structures compromise the health of the region, as women are not sufficiently involved in decision-making and laws against harmful practices in charcoal production are not enforced. Tearfund Germany has developed a specific theory of change and is working to address these root causes.
Environmental Pathway
Seeing the untapped potential of village government and community members to protect and care for their environment, the project builds community-level capacity to stop practices directly or indirectly linked with the degradation of the environment and promotes and highlights practices that benefit both the environment and the people who live in it. The project also provides space and resources for the wider community (as well as the poorest) to consider how they might change their livelihood practices to work more with the environment (rather than opposed to it) so that the strengthening of livelihoods results in the strengthening of the environment and vice versa. The project strengthens the communities' ability to manage and change their environment.
Livelihoods Pathway
Recognizing the strengths and weaknesses of community members' specialization in pastoralism, the project provides knowledge, experience, and/or access for pastoralists to diversify livelihoods in areas of farming or small trade (especially for women) and also in ways that protect and strengthen the main livelihood of livestock (CAHWs, fodder production, etc.). Additionally, by promoting well-timed destocking, banking, and utilizing funds for DRR, the project supports villagers to diversify their wealth and livelihoods in a way that also strengthens their existing livelihood of livestock. By strengthening current livelihoods and diversifying into new areas of livelihood, communities will be less likely to be impacted by disaster and decrease the level of severity when they are impacted by disaster.
Coordination Pathway
Taking into account the importance of women's role in building resilient communities and households, the project seeks to help community members strengthen women's involvement in community and household decision making while also providing space for women to strengthen coordination among themselves. In addition, the project promotes learning and planning for drought at the community level which not only facilitates coordination within the community, but also provides an avenue for coordination at the district and national level. Greater coordination strengthens resilience by improving planning and preparedness prior to disaster and by providing existing support structures during disaster.
Long-term Goal and Objectives:
The long term objective of Tearfund Germany's work in Somaliland is to develop the environment, communities, and households to be resilient to seasonal changes, drought, and climate change by improving the adaptive capacity of vulnerable households and their communities.
Somaliland is a self-declared state internationally recognised as an autonomous region of Somalia. Somaliland lies in northwestern Somalia. The capital and the largest city is Hargeisa, with the population of around 1,500,000 residents.
More Info: Somaliland