Education and Inclusion for Refugees in Turkey
In Turkey, we are actively assisting severely disadvantaged populations, including refugees. On the one hand, we focus on the education and integration of ethnically and religiously discriminated against groups; and on the other hand, we support and empower children with disabilities and their families. Furthermore, we are active in strengthening civil society by sponsoring "Building Leaders 4 Peace" (BL4P) camps for young people. It is there that we teach them to become advocates for peace and reconciliation in their own families and communities.
Turkey accommodates 3.9 million refugees, among whom there are 1.7 million children. Most of the refugees in Turkey are from Syria. Although only a small number of them live in camps, most of the children have only limited access to public services such as schooling and health care. Approximately 40% of the Syrian school-age refugees are not enrolled in school. The Turkish government is planning, however, to incorporate all refugee children into public schools by 2020. Tearfund Germany offers information and integration aid to meet this goal.
Goals for education and inclusion projects in turkey
Offer extracurricular educational activities for the excluded and stigmatized Abdal people
Support families with disabled children by providing therapy, educational services, medicine and food
Invite young prospective peacemakers to BL4P camps
Create family centers, which provide literacy courses
Implementation
Since 2015, we have been active in Turkey, implementing different onsite projects with local partners, churches, Christian organizations, and other networks. We have supported children with disabilities as well as other disadvantaged children. In small teams, the employees of our local partners have visited refugee and native families to offer individualized therapies and educa-tional programs. The teams have endeavored to build mutual understanding with and acceptance by the families, through the assistance which also consists of food and medical supplies.
Another project has been designed to help the ostracized Abdal people, an ethnic and religious minority. School-age children of that group have received through our program the educational and practical assistance they need to be integrated into the local schools. Additionally, we have supported the poorest of families by providing literacy courses, especially for women. Finally, we have given young people from different backgrounds the opportunity for encounters, friendships, and reconciliation education at our BL4P camps, with the hope that they become the future peacemakers in their families and communities.
Gaziantep Refugee Community Center
In Southeast Turkey, TearfundGermany is supporting a project through our local Turkish partner First Hope Association (FHA). FHA's center provides activities, training, and support for 50 children from Abdal families . The project goal is to equip at-risk children ages 4-7 for long-term academic success. Children enrolled at the center are taught basic literacy and positive introduction to schooling norms (activities, literacy, hygiene, numbers, colors, etc.) so that they will be prepared to enter the Turkish school system. The program enjoys strong community support and aims to increase low school enrollment, offer literacy classes to parents, and reduce child marriages. After students graduate from the center program and enroll in public school, the center continues to provide vital support by providing school supplies, transportation costs, and a yearly scholarship of $100 per student to encourage their continued success.
Community Resilience
Kardelen Seeds of Joy
In the capital city of Turkey, Ankara, Tearfund Germany is supporting a project through our local Turkish partner, Kardelen, Seeds of Joy. Over three million refugees and asylum seekers have fled to Turkey from Syria and Iraq. It is estimated that over twenty thousand of these refugees are now living in the city of Ankara. Over 12% of these children have physical and/or mental disabilities due to factors such as war trauma, poor health care and intermarriage. According to the UN, children with disabilities are the most physically and sexually abused people group worldwide.
Kardelen Seeds of Joy, is a care ministry that helps disabled children and their families through relationship, care and community. Two Teams (Hope and Light) visit Turkish and refugee homes four days/week to provide children with disabilities special education and therapy. The teams consist of two people, one who focuses on the child and the other on the family. The Mercy Teams also meet practical needs (food, medicine, transportation, translation, etc.) for needy families on a case-by-case basis. A third part-time team, Joy Team, offers counseling support and responds to needs that education and physical therapy cannot address.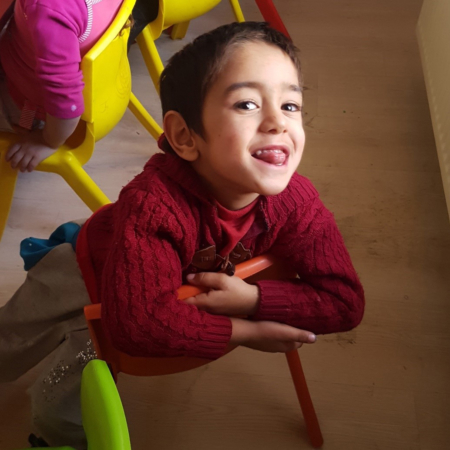 Story of Nazlı
"Even among our own relatives, we cannot find the closeness we have experienced with you," Nazlı's mother said.
Nazlı Nisa is 8 years old and struggles with Cerebral Palsy and cognitive delay. She has five older siblings and spends most of her time at home. When she was introduced to our partner, Kardelen three years ago, Nazlı could not recognize colors, numbers, or letters. Nazlı could not stand or walk or sit without support due to poor muscle tone and she could only use one arm.
Fortunately, we have seen remarkable changes in Nazlı's life. Thanks to a wheelchair provided by funds from Tearfund Germany, Nazlı can now discover the world outside her family apartment. The training she receives from our Mercy Team is teaching Nazlı to live more independently, reducing the burden of care on her mother. With the help of physical therapy from Kardelen's physical therapist, Nazlı has begun to use her non-working arm and to walk with support and sit without support. Once Nazlı could not even hold a pen but now she can write and even takes private lessons.
Kardelen also provides a variety of family supports, including transportation assistance to bring Nazlı and her mother to hospital appointments; help to navigate the hospital bureaucracy; nutritional food options to improve Nazlı's health; and counseling to resolve family conflicts. Nazlı's father Kadir says that he would trust Kardelen enough to give us a key to their house and that the Mercy Team has become like family to them.
In Nazlı's household, despair has been replaced by joy as Nazlı continues to succeed beyond expectation with the help of appropriate support and therapy provided by Kardelen with the support of Tearfund.
Turkey, officially the Republic of Turkey (Turkish: Türkiye Cumhuriyeti), is a transcontinental country located mainly in Western Asia, with a smaller portion on the Balkan Peninsula in Southeast Europe. East Thrace, located in Europe, is separated from Anatolia by the Sea of Marmara, the Bosphorous strait and the Dardanelles (collectively called the Turkish Straits).
More Info: Turkey